In the spirit of the season, when various media outlets take to recommending more or less extravagant "winter getaways," we suggest basing a trip on some favorite recent additions to the Walker collections.
If you enjoyed swaying in the hammocks that were part of the Hélio Oiticica and Neville D'Almeida's CC5 Hendrixwar/Cosmococa Programa-in-Progress, on view at the Walker last summer … 
… then book a flight Los Angeles, where you can plunge into the artists' psychedelic swimming pool: 
The Museum of Contemporary Art (MOCA)  has just opened Suprasensorial: Experiments in Light, Color, and Space, described as "the first museum exhibition to situate pioneering Latin American artists among the international canon of those working with light and space." Its highlight is Cosmococa-Programa in Progress, CC4 Nocagions (above), which, according to the LA Times' Culture Monster blog, was never realized during Oiticica's lifetime. But at MOCA, this 90-centimeter-deep pool even comes with a lifeguard and a changing room. Bring your own suit, or buy a disposable one on site. (On view through February 27, 2011.)
It's hard to see in the image above, but the pool in Cosmococa-Programa in Progress, CC4 Nocagions is surrounded by projections of images from a book by John Cage; that composer's work is also featured in a stunning installation by Tacita Dean that just opened at the Walker December 16: Merce Cunningham performs STILLNESS (in three movements) to John Cage's composition 4'33" with Trevor Carlson, New York City, 28 April 2007 (six performances; six films):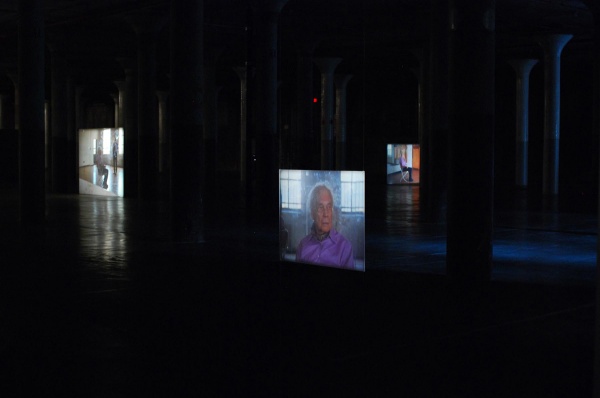 Fans of this work may wish to jet off to Glasgow for an experience quite the opposite of an L.A. swimming pool. Do as Guardian UK arts blogger Charlotte Higgins did: Trudge through a picturesque snowy park to a "small and exquisite exhibition" of Dean's work at a gallery intriguingly named The Common Guild, whose attentive staff may even welcome you with a cup of hot tea. It includes the work below, part of the series 'Painted Kotzsch Trees' I- VI (Through February 5)
For something rather more monumental from the British artist, wait until October and go to London. That's when the Tate Modern will unveil Dean's installation in the cathedral-esque Turbine Hall, which follows Ai Wei-Wei's current installation of 100 million hand-made porcelain sunflower seeds.