Gob Squad is the hit of New York's Under the Radar Festival!

I just returned home today from the exhausting, and sometimes exhilarating Association for Performing Arts Presenters (APAP) conference in New York, which now umbrellas four simultaneous performance/dance festivals, hundreds (maybe thousands) of showcase performances alongside dozens of panels, meetings, gatherings, and on the fly conversations with artists.
Within an hour of arriving there last Friday, three colleagues all stopped to tell me the same thing, Gob Squad's Kitchen (you never had it so good) was the must see event. This mantra continued unabated over the next four days…of course these folks didn't realize the show was already coming this week to the Walker.
The Walker first introduced the work of Gob Squad to Minnesota more than a decade ago. I travelled to Stockholm nearly two years ago specifically to see Gob Squad's Kitchen, was totally knocked out by it, and I have been working on bringing the show to Minneapolis since then. Mark Russell, good friend and brilliant producer of Under the Radar Festival in New York, is also a fan of Gob Squad's and didn't have the chance to see this latest piece live. And, remarkably enough, Gob Squad had never yet shown their work in New York. I am grateful Mark trusted in my enthusiasm around the piece and was thrilled that it was such a hit with presenters and the public alike.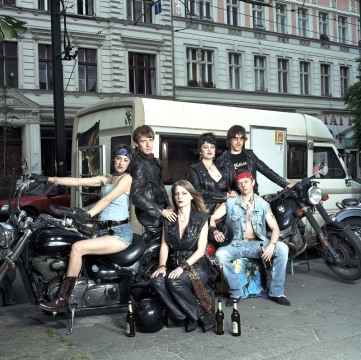 If you're interested in new performance, theater, contemporary art and ideas, and of course all things Warhol – or, if you just want to have a great time in the theater – you owe it to yourself to see this unique, smart, joyous show.
Here is New York's Culturebot review that I think captures it perfectly:
"If there's one show that's already played over the last week that's generated real buzz, it's Gob Squad. Pretty much everyone I've talked with has had nothing but praise for the London-Berlin based company's take on Warhol's filmic work…" Click here to read more.
I look forward to seeing you in Gob Squad's KITCHEN this weekend!
– Philip Bither, Walker's Senior Curator of Performing Arts
Click here for tickets to this weeks performance running Jan 13th-15th.