**JUST ADDED!**
10:30 pm show for Dean & Britta's 13 Most Beautiful… Songs for Andy Warhol's "Screen Tests".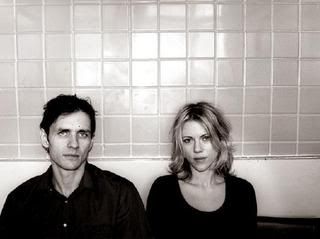 In anticipation, here are ALL of the 8-Ball questions answered by Dean Wareham and Britta Phillips:
Warhol shot hundreds of Screen Tests. Did you take part in the selection of the thirteen subjects for the 13 Most Beautiful … project?
Dean: I made several trips to the Warhol Museum in Pittsburgh, and looked at about a hundred of these tests based on descriptions in Calle Angel's book. As I read about Warhol and the Factory, I became more interested in the figures who were regulars there, Superstars and Mole People – Jane Holzer, Edie Sedgwick, Lou Reed, Billy Name, Mary Woronov.
What three words come to mind first when you think about Warhol's Screen Tests?
Britta: The obvious ones, I guess…. The Factory, Superstars, Mole people…
You can be any of Warhol's Superstars for a day. Which one do you choose?
Dean: Paul America, but only for a day
Britta: Edie Sedgwick, of course
Warhol was an obsessive collector of high and low art as well as pop ephemera. What do you collect?
Britta: Our apartment is too small for any collections other than essential instruments, albums, CDs and books.
Dean: Yes, it's hard to be a collector when you live in a fourth-floor walk-up apartment in Manhattan. I am forever weeding things out, keeping only what is essential, what can fit under the bed. But I do have a bit of vinyl. And too many effects pedals for my electric guitar.
Did either of you have encounters with Warhol?
Dean: I saw him at Area (a New York club) in the early '80s, but I don't think that qualifies as an encounter.
Britta: And I saw him in the '80s too, at Indochine, a hip restaurant in Soho.
What do you feel is the closest approximation of Warhol's Factory today?
Britta: I don't think any place is close enough to qualify.
Dean: The Silver Factory was itself a work of art, specific to the '60s, a drug-fueled collective of artists and misfits. . . probably not a healthy thing to aspire to. Who knows, maybe there's a place like it in Shanghai.
You composed sound tracks for The Squid and the Whale and other films. Are there other sound track projects in the works, or directors you'd like to work with?
Britta: Wong Kar Wai
Dean: I've been lucky enough to do some work for Olivier Assayas, who has great taste in music. Wong Kar Wai is another whose soundtracks I love.
What do you see as your artistic legacy?
Dean: I like getting emails from kids telling me that they just listened to Galaxie 500 as the sun came up.
Britta: For me it's L'Avventura. I love that album and am very proud of it. But we're still making music so… one never knows what will come next.
What is one of the most unexpected influences on your art?
Dean: Dr. Seuss
Britta: accidents
Which artist turned your world upside-down as a teenager?
Britta: Patti Smith
Dean: the music of Joy Division, with the sleeves designed by Peter Savile
What's one of your guilty pleasures?
Britta: wasting time
Dean: watching Law & Order
Fill in the blank: What the world needs now is ( ).
Dean: Socialism
Britta: wisdom and poetry
What do you consider the most overrated virtue?
Dean: Faith
Britta: Faith
What was your worst job?
Britta: handing out flyers for phone sex
Dean: bartending for my grandfather's catering business
What is your advice for young people today?
Britta: learn about the present and future by studying the past
Dean: U.S. Out of My Pants!
Whom would you like to spend three hours in an elevator with?
Britta: Octavio Paz
Dean: Alexander Cockburn
Which three items can always be found in your refrigerator?
Britta: Pumpkin seed butter, ice cream, marmalade
Dean: milk, creamed honey, Polish beer
What have you been listening to lately?
Dean: Two bands from New York: Crystal Stilts and the Vivian Girls
Britta: Stereolab, Henry Purcell
What sound annoys you the most?
Britta: Sarah Palin's voice
Dean: Lenny Kravitz
Who is your favorite villain?
Britta: Ralph Nader
Dean: I believe that is an oxymoron.