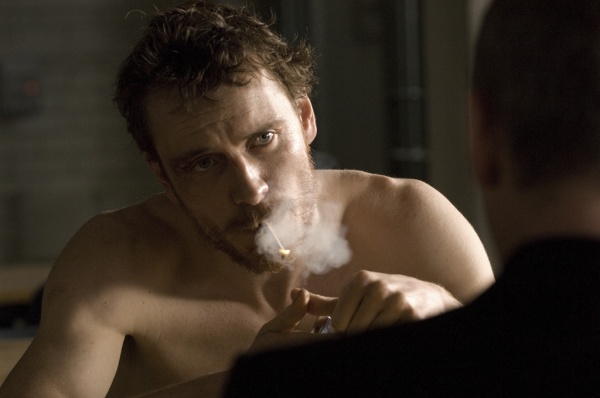 Thanks to the Walker, Hunger will be playing for an extended run in one of the few Twin Cities movie theaters that doesn't serve popcorn. That observation sounds glib, I'm sure, particularly in light of the film's grave subject — the slow and painful death, by self-imposed starvation, of imprisoned Irish nationalist Bobby Sands, who died in 1981 after 66 days in protest of the British government. But it's also true that British artist Steve McQueen's unusually rigorous, boldly immersive approach to the experiential details of sensory deprivation compels — no, demands — the viewer's personal adherence to the most elemental human functions, mainly breathing and blinking, give or take thinking. (Perhaps the ideal presentation of Hunger would require ticket buyers to spend 24 hours in isolation before the start of the film.)
So, too, given McQueen's history in experimental video installation, not to mention the meticulously composed frames of his 98-minute debut feature, Hunger (winner of the Camera d'Or at Cannes) may indeed be best suited to gallery display. As the director has said, he set out to capture "what it was like to see, hear, smell and touch" in the Maze prison near Belfast — this to the near-total exclusion of other contextual details such as those Troubles that pushed Sands and his fellow hunger artists to action. The World Socialist Web Site has, along with very few others, voiced its disapproval of the film's arguably apolitical orientation. But if not even Sands could explain his choices to the satisfaction of a visiting priest — as seen in the film's bravura centerpiece, a 20-minute debate between skin on bones (Michael Fassbender's Sands) and a man of the cloth (Liam Cunningham's Father Moran) — then no movie, McQueen believes, could hope to do it either. So what Hunger does instead is bear witness. And, correct or not, the film's piercing look at human pain casts an unforgettable spell — akin, at least for me, only to that of Dreyer's The Passion of Joan of Arc, Bresson's Diary of a Country Priest, and Jarman's Blue.
As hunger is a fact of life, McQueen doesn't hesitate to establish it as a universal, if relative, condition. One of the film's first shots lingers on a hot plate of bacon and eggs — a would-be reward for a prison officer who appears less interested in eating his wife's home cooked meal than in checking under his car for a bomb. This man, martyr or not, will experience his own deprivation soon enough. Meantime, his opposite numbers behind bars are characterized by McQueen not as representatives or even victims of institutional violence, but as literally starving artists, creatively making use of what little is at hand — namely uneaten prison food and their own fecal matter, materials for finger-painted work that few others could have been expected to see. Until now, that is. If Hunger carries the power of stark revelation, it's not only for our shocked understanding of the prisoners' oppression, their selves ritualistically beaten out of them by guards, but our sense that, almost 30 years later, their ordeal has finally earned them a sort of posthumous recognition. In this sense, McQueen is as much curator as artist, as much activist as observer.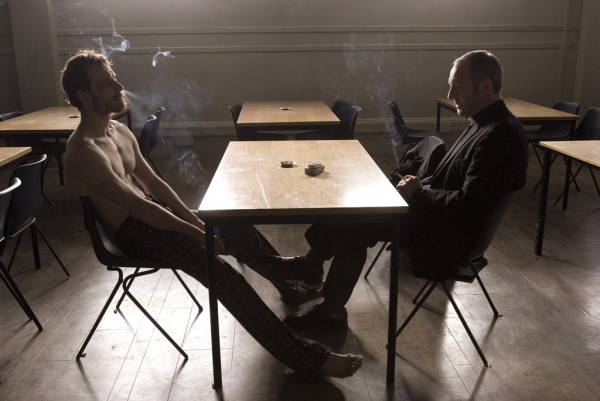 With incremental force, Hunger pushes its audience to reckon with some measure of the protesters' seemingly unimaginable experience. In the aforementioned debate scene, captured in harrowing long take by McQueen, we're given a chance to wrestle with Sands's ideas ("Freedom means everything to me") — but it's also at this point that the realities of his impending demise begin to sink in deep. Sands helps himself to the priest's cigarettes while holding court, and, philosophical as his words may be, we can't help wondering: Do death sticks, in the absence of food, actually nourish the starving body? If so, for how long? Watching Sands's organs and mind deteriorate in tandem, I began to wonder if a will as strong as his could momentarily feed on hallucination even while, in reality, the starving man continues to resist.
And how long can a movie last without its protagonist's ability to speak, to hear, to see? Reeling on borrowed time, Hunger's final passages appear to unfold in some other realm — heaven, perhaps, but not necessarily. Ultimately, the film opens a gallery of the mind — yours. Seems that freedom means everything to McQueen as well.