On weekends when the Walker Cinema is empty, Headline Rewind points out other worthwhile films that respond to headlines from the week that was.
News Event: The Lone Ranger in Theaters
As one of the summer's major times for blockbuster releases, this weekend saw Gore Verbinski's The Lone Ranger getting solidly outpaced at the box office by Despicable Me 2. There's been a lot of build up for this new filmic adaptation of the old radio 'classic,' and one has to wonder whether some of that build up is part of the lukewarm reception that has met The Lone Ranger this weekend. As an action film produced by the widely-beloved Johnny Depp (who also stars as Tonto), most of this build-up is less about the film than the politics surrounding it — as NPR puts it: "Does Disney's Tonto Reinforce Stereotypes Or Overcome Them?"
This is the first of a host of questions that the film raises, some of which may have different answers for Native and non-Native people (and for different individuals and groups within those larger categories). Should Johnny Depp have been adopted by the Comanche? Does Depp's 'indigenousness' make the film okay? Why not have a Native actor play Tonto? Does representation always have to be accurate (and how do we assess that accuracy)? Where is the line between pure entertainment and that which becomes political? (Fuzzy and shifting, I'd suggest.) And—is it even a good film? (The New York Times says: not so much.)
As a medium, film is dependent upon images—it is built upon representation. And while the history of film as a bastian for Western white (Protestant) upper-middle-class straight male representation has been pretty solid, when the depictions we see in films include the identities of people or groups of people who do not fit that white-male-category, the way we evaluate those representations has a tendency to become more political, to draw more ire, or require more delicacy. Coming from my position as a white, female-identified, queer-presenting, liberal-arts educated Unitarian Universalist American 23-year-old who hasn't actually seen The Lone Ranger, I'm probably more qualified (to a point) to comment on the representation of women in film, or the representation in New Queer Cinema like Weekend or Save Me, though I make no claims to have insight into the gay male experience(s).
So in the case of the question of misappropriation of indigenous culture, I'm going to defer to Adrienne Keene, who runs the blog Native Appropriations, and who has been writing insightful commentary on the pre-production, production, and now release of The Lone Ranger (and a host of other deeply interesting topics around indigenous representation). You can read her reactions to the film here—and as is clear from the 134 comments that have accrued (as of the writing of this post) since she shared her thoughts on Thursday, The Lone Ranger has at the very least given us a highly visible centerpiece for continuing an incredibly important conversation.
Film Recommendation: Jim Jarmusch's Dead Man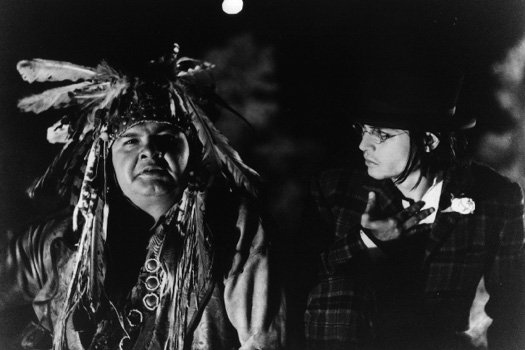 As the media and debates around the release of The Lone Ranger reminds us, representation of Native Americans in film—especially Hollywood film—has ranged from the woefully stereotyped to the relatively accurate (although tending heavily towards the woeful end of the spectrum). The 2009 documentary Reel Injun: On the Trail of the Hollywood Indian, by Cree filmmaker Neil Diamond, does a fantastic job of chronicling and critiquing the portrayal of Native people throughout the history of film (incidentally available on DVD and Blu-Ray from Netflix).
And if you missed The Lone Ranger this weekend, don't worry—or, if you agree with Adrienne's assessment, congratulate yourself! Either way, you can still see Johnny Depp in a Western that does a decidedly decent job of engaging with Native American representation, and is just straight up great filmmaking: Jim Jarmusch's 1995 cult classic Dead Man.
Shot in sumptuous black and white, this "Psychedelic Western" (as Jarmusch terms the genre) follows the accountant William Blake (Depp), who is being hunted across the American West for a 'murder' he committed in self defense. He is accompanied for much of his journey by a Native American (Gary Farmer) named Nobody who idolizes the poet William Blake and resolves to lead Depp's Blake to the Pacific Ocean, in order to return him to his proper place in the spirit world.
Alternately meditative, wryly funny, brutal, pensive, trippy, and melancholy, Dead Man is the ultimate post-modern Revisionist Western. In typical Jarmusch style, it features a cast including the likes of Iggy Pop, Billy Bob Thornton, and Robert Mitchum (in his last role), and a chilling, improvised score recorded by Neil Young. Its engagement with the tropes of the Western genre is deeply self-aware, as is its engagement with the stereotypes of indigenous representation, where carefully-researched post-modern pastiche enacts a sort of tightrope walk between ironic critique and earnest representation. It crams itself with tropes but for a reason; and several conversations in the film are conducted in Cree and Blackfoot languages, left untranslated as exclusive jokes for members of those nations—a choice that is not unpolitical, but is certainly interesting and feels, as a gesture, well-intentioned and well executed. By some accounts, it may stray into the territory of cultural misuse, but if so, it redeems itself with its self-awareness. While it may raise some of the same questions that The Lone Ranger has been inspiring, it does so in a way that is sensitive but not sterile, within the context of a film that raises a host of other questions, beautiful, haunting, and incredibly worth watching.
Dead Man is available to stream and on DVD and Blu-Ray from Netflix, as well as Hulu Plus streaming.
Other Jim Jarmusch films that are equally worth your time are also available to stream on Netflix, including (one of my top five films of all time) Ghost Dog: Way of the Samurai, Broken Flowers, and The Limits of Control.
If you're interested in continuing your exploration of how Native Americans are represented on the film, Chris Eyre's 1998 classic Smoke Signals (also starring Gary Farmer) is a great place to start; available to stream and on DVD/Blu-Ray on Netflix.