Mike Leigh is talking about his 10 feature films–from Bleak Moments (1971) to Happy-Go-Lucky (2008)–and the relationship among them."As much as anything," he says, "and not altogether consciously on my part, all of my films deal in one way or another with the whole question of parenting: having parents, having children, teaching, learning, the question of whether to have children, unwanted pregnancies, all of that. It goes all the way through my career."
Leigh's summation of his work, given to me during a recent interview at the Toronto International Film Festival, is not just thoroughly authoritative–anything this director says is thoroughly authoritative–but conveniently timed. Throughout October, the Walker is showing all 10 of Leigh's features, starting with Bleak Moments on Friday, and the event will bring the distinguished filmmaker to Minneapolis for the very first time, on October 15, for a Regis Dialogue with LA Weekly film critic Scott Foundas (whose brilliant handling of Milos Forman at the Walker some months back leaves no doubt that he's perfect for this even more daunting task).
Leigh has a reputation–not unearned–for being dark, onscreen and off. And it's that reputation, in part, that the director plays with in Happy-Go-Lucky (October 11 at 7:30 p.m.), which starts with a scene that's almost magical in its joie de vivre, the camera tracking bicycle-peddling grade-school teacher Poppy (Sally Hawkins) through a candy-colored fantasia that just so happens to be London–not art-directed London or computer-generated London, but London. A committed realist, Leigh doesn't fabricate. Which is to say there's something right in the first minutes of the director's typically groundbreaking new film that finds something real worth smiling about–a rare act these days, and one of which optimistic Poppy herself would approve.
Leigh and I talked for a half-hour or so about–among other things–optimism, subversion, the future for kids, and the true meaning of Poppy's clothing.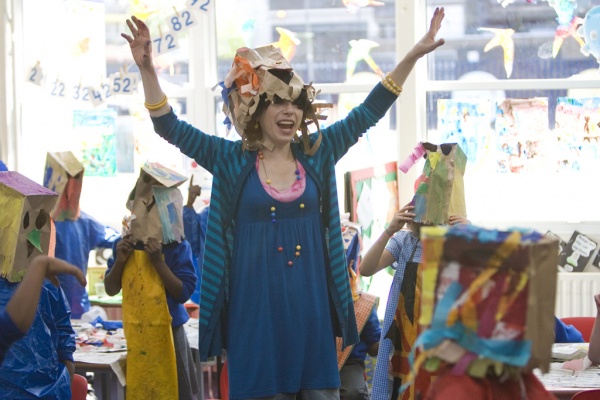 Q: I find Happy-Go-Lucky, like many or all of your 10 features, to be a deeply philosophical work.
A: Good. Because it is [laughs].
Q: It's an inquiry into what it takes to be happy and sustain it. But do you think that happiness can sometimes be a disease, too, like depression? Is there a fine line between the two?
A: Well, I think we need to deal with part of the premise of the question, because the film isn't really about happiness. It's about fulfillment. I don't think fulfillment can be a disease. Maybe happiness can be a disease, I don't know–even that sounds perverse. But certainly fulfillment is not a disease. Maybe the question should be, "Is it dangerous, this condition of delirious bliss, this state of being blind to realities?" In that case, the answer is "Yes." But that's got nothing to do with the film, because that's not Poppy's condition. Poppy is grounded, focused, sensible, intelligent, sympathetic, caring, motivated, committed professionally, and someone who cares for other people. She has a sense of humor, an exuberant spirit, and all the rest of it. There's nothing dangerous in her condition at all–it's positive and it's healthy.
Q: Good. But you allow for a range of interpretation of the character and the work itself, yes?
A: Look, my films are not prescriptive or, in the crude sense, didactic. Are they philosophical? Yes. I invite you to respond as you will to a look at people who, hopefully, have been rendered in a three-dimensional way, like real people. And your response will be determined to a degree by how you are as an individual, whoever you are. So, yes, there's a variety of interpretations. It is also true, on another level, that, because of the way I constructed the film in the initial stages, you could be forgiven for thinking possibly that this could be a young woman whom you may not want to spend two hours with.
Q: Yes.
A: But even that, I have to say, is all too easy. Because the first thing you see of her in the film is her riding through the city on her bike; the only thing that happens in that rather straightforward opening sequence is that you see her waving at people in a friendly manner. Then she goes into a bookstore, where the [employee] there is especially antisocial and catatonic–he's got his head screwed up with his own problems. She deals with that guy with gentleness and humor. She gets her bicycle stolen, and she deals with that philosophically, too. Then you see her behaving in a kind of outrageous way with her girlfriends, just having been out for a night on the tiles, you know? And from there on, you see her being responsible and sensible–but funny as well. So really, she's there to get to know. And that constituency–and there is one–that says, "I wanted to throttle her by the end of the film, I couldn't stand her," well, I just can't get it, really. I don't know where they were when all those things were happening in the film. I don't know where their heads were. Or rather I do know where they were: Their heads were up their asses, basically.
Q: We're talking about this character in psychological terms as well as philosophical terms, and I'm struck by her diagnosis in the film of Scott–her driving instructor–as being an only child. I'm very interested in that. How did that line originate?
A: She's a teacher and she knows about kids; she thinks about kids all the time. She would have taught kids from big families and kids who are without siblings. Her instinct, which comes from that long experience, would lead her to that conclusion. You kind of understand from his reaction to what she says that [Scott] probably is an only child. So the line is just a way of opening that up. It comes organically out of her ability to be perceptive.
Q: Are there movie characters that you thought of in relation to…
A: Absolutely not [interrupting]. No. Some people have mentioned Holly Golightly [from Breakfast at Tiffany's]. But I don't think about movie characters at all.
Q: So she's modeled on real people then?
A: My job is to make things up. It's what fiction-makers do. So Poppy is drawn from all kinds of sources, really–including none at all, you know? She's drawn from my idea of something.
Q: While inventing this character, did you imagine how you would react if you literally bumped into her on the street?
A: Yes. I'd love to bump into her on the street. She's someone I'd like to know. Oh, yeah. She's the kind of person I like. I'd get on with her well. We'd get each other. Like Pygmalion and Galatea, really. She's a gas.
Q: Poppy seems to gravitate most strongly to the social worker–they have a kindred connection around helping others, kids in particular.
A: They also fancy each other and they fuck each other, yeah. I can't say it any clearer than that, really.
Q: Did any part of you want to show it more clearly?
A: Don't know what you mean.
Q: You say "fuck," so…
A: You mean did I want to have something in the film that isn't there?
Q: Well…
A: Answer is no. Everything is just…
Q: Well said.
A: See, we don't make films that other people interfere with. We make films far away from the nonsense of Hollywood. We make films with freedom. So this one is exactly as it should be. You don't need to see any more than you see in the film, but it's important that you see what you see.
Q: Bear with me for a second: Could you imagine having seen Happy-Go-Lucky in, say, 1973, just as you were starting to make films?
A: You mean could I have made this film in 1973?
Q: No, what I mean to ask is: If, by some crazy miracle, you were allowed to see your work from 35 years into the future…
A: Oh, I see.
Q: …how would you react to it?
A: Would I be watching it knowing that I had made it?
Q: Right! That's the question–I suppose it hinges on that. Perhaps you could answer it either way?
A: Well, first of all, I have to say that this is a ridiculous avenue to traverse. But very well, I'll go along.
Q: I could say one other thing.
A: Go on.
Q: Well, I think another way to ask the same question is: How do you personally–in the ways that matter to you most–measure the course of your progression as an artist?
A: That's a more tangible question.
Q: Sure. But keep in mind the other question, perhaps, as you answer.
A: Well, the truth is, if I saw, in 1973, at the age of 30, Happy-Go-Lucky, and, having made only one movie before, I didn't know it was a film by me, it would simply be a film that would blow me away. I would actually be very excited by it. I would be very influenced by it. I would be very taken with it. Now, on the other hand, if I was gazing into a crystal ball…but you don't mean that, do you?
Q: I'm interested in either answer.
A: I don't know. Your question really is about progression, yes?
Q: Yes. You took so many steps in between to arrive at Happy-Go-Lucky. And the retrospective marks each of those spots.
A: Yes.
Q: What if you had skipped those steps?
A: Okay. Are you familiar with Bleak Moments?
Q: Yes.
A: Okay, I'll tell you the truth. What interests me is not so much the differences between the films, but the sibling relationship between them–the homogeneity, the similarities, if you will. Because actually, if you look at Bleak Moments and you look at Happy-Go-Lucky, you would find quite a lot that resonates beween them.
Q: And Naked, too. Maybe that's what I was getting at in that question about whether happiness can in some cases be a disease, can be dangerous. These films that appear opposite–and these states of mind or mood that appear opposite–are maybe not as different as they appear.
A: Okay, sure. Yes. You could bring any of the films in. And in a way, that's part of the answer to the question. On the other hand, part of the answer is about something else completely. Which is that I was 28 when I made Bleak Moments, and I was 64 last year when I made Happy-Go-Lucky. All of my progress as a filmmaker, my trajectory, can be identified in terms of a simple before-and-after: There are those films I made before I was a parent, and those films I made since becoming a parent.
Q: When did you become a parent?
A: I became a parent in 1978. Now, I do hope that at 65, my worldview and my experience of life inform what I do. So it's not a question of Happy-Go-Lucky showing that, hooray, at last, he's happy, he's a happy old man, he's made a cheerful movie. That's rubbish. Because in fact, we haven't seen what the next film is going to be.
Q: Indeed.
A: But I think there's a more rounded view of people and things in Happy-Go-Lucky than there was in the films of 30 years ago. As an artist develops, his skills develop. And also, there's another thing, too, which is rather mundane, I suppose, but it's very important, and it's this: Every time you make another piece of work, that piece of work claims territory that you've not been to before. So the territory left to explore diminishes. And that makes you more imaginative about where to go next.
Q: We've been talking about your personal life in relation to the art–at least in this idea of the films being distinct for having been made before or after you were a parent. So the other question is: To what extent did your decision to make this film at this time reflect the current sociopolitical climate–which many would characterize emphatically as not happy-go-lucky?
A: Totally. We're living in really bad times, tough times. We have a great deal to be gloomy about. And we can sit around here being gloomy, yes. But while we're doing that, people–not least among them teachers–are out there getting on with it. The act of teaching kids has to be, by definition, an act of optimism. Because it's about cherishing the future, nurturing the future. What future? Now that's another question. God knows what future. How old is your kid?
Q: He's six.
A: Six! What sort of a world…I mean, how old are you?
Q: Forty.
A: Forty. What kind of world will your six-year-old be living in when he's 40?
Q: I don't know what he'll inherit.
A: Yeah! Exactly. But we have to be positive. We have to get on with it. So that's the answer to that one.
Q: Let's switch gears a bit. How were Poppy's costumes chosen? These are fantastic creations.
A: Everything she wears you could buy off the rack at prices that Poppy could afford last year in London–that's the first thing. So there's nothing phantasmagorical about them. Edith Head did not earn credit for Special Gowns Worn by Ms. Hawkins, you know? We're very strict. Nobody wears anything that his or her character wouldn't wear or couldn't afford. And they're also a function of Poppy's taste–her sense of humor and sense of life. And, of course, it's a movie! We're being a little bit pious about it in this conversation, because the fact is: It's a film! It's an entertainment! I'm here to amuse and entertain you, to give you a good time, make you feel jolly! It's my first widescreen film. Just before we started shooting, [cinematographer] Dick Pope went to a trade fair in London where Fuji announced this new [35mm] stock called Vivid, which accentuates bright primary colors. So we used that. And so it all comes together, it all coheres.
Q: I guess that's the sense in which I'm encouraged to think and ask about other films, other film characters. The images in Happy-Go-Lucky really pop in a pure, kinetic kind of way, in terms of how the colors excite one's eye. It makes me think about, say, Jacques Demy's The Umbrellas of Cherbourg, for instance.
A: Well, I hope that Happy-Go-Lucky is a more interesting film than that [laughs].
Q: I'd say it is, yeah–because of its complicated relationship to genre. I mean, if you want to see Happy-Go-Lucky as a movie, and to some extent you do…
A: It's a movie, yeah.
Q: …then I think it's a movie that investigates the inner workings of other movies, other genres–like the one that includes The Umbrellas of Cherbourg.
A: What I would say is that the film subverts that genre. What I do very often, in fact, is subvert genre.
Q: Indeed.
A: For example, Naked subverts film noir. In fact, nothing that happens in Naked has anything to do with film noir, but the general feel of it does. Topsy-Turvy absolutely subverts the costume film, the period film.
Q: And the musical, too, I would say.
A: Yeah. And Happy-Go-Lucky subverts. It's interesting what you're saying. You do have to talk about the movie as a movie. Because it is a movie. At least I think it's a movie, anyway.
Q: I won't disagree with you.
A: Yes.
Q: It's a screwball comedy.
A: Yes it is, on a certain level. Except that if you said to people that Happy-Go-Lucky is a screwball comedy, you would be…
Q: Subversive?
A: Well, you would be not telling the truth. The film has screwball comedic elements in it, yes. But the truth of the matter is that the story of the film is a perfectly real series of events. And unlike a screwball comedy, the narrative is cumulative, not causal. It's not all about the farcical messes that people get into. It's just about what happens to people.
Q: To the extent that Happy-Go-Lucky, as you say, is designed to surprise and subvert, and that this is something you've done throughout your career, has that effort needed to change over time by dint of the fact that the world has come increasingly to know the films of Mike Leigh–enough to know that they should expect subversion?
A: Yeah, but I don't think about that. I really don't. I just think about what the film is about. One thing I could say, I suppose: Life is Sweet is followed by Naked, which is followed by Secrets and Lies and Career Girls, then Topsy-Turvy and All or Nothing, and then Vera Drake comes in. So there is a thing of doing something completely different than you did last time–deliberately doing what I think you're not expecting. Happy-Go-Lucky has a pretty obvious element of distinction from what came before, from Vera Drake. So in that sense I think about these things, yes. Maybe that's what you're talking about. But ultimately, I just get into thinking about the movie is about. Within my genre, if you want to call it that, if you want to be pretentious about it, I do what I do, which is fairly limited, but within that I also vary the style of the films. But fundamentally, the films are all the same–they're torn from the same cloth.
Q: Maybe there's a sense in which the ideal viewer of Happy-Go-Lucky is one who has never seen a Mike Leigh movie–or at least doesn't know that he or she has.
A: I don't think that's true. As a matter of fact, I think that would be ridiculous. I certainly think that people who have never seen a Mike Leigh film are more than welcome to see Happy-Go-Lucky. But the film certainly hasn't been made for people who've seen my work or for people who haven't seen my work. It has been made for people.
*Mike Leigh photo by Rob Nelson