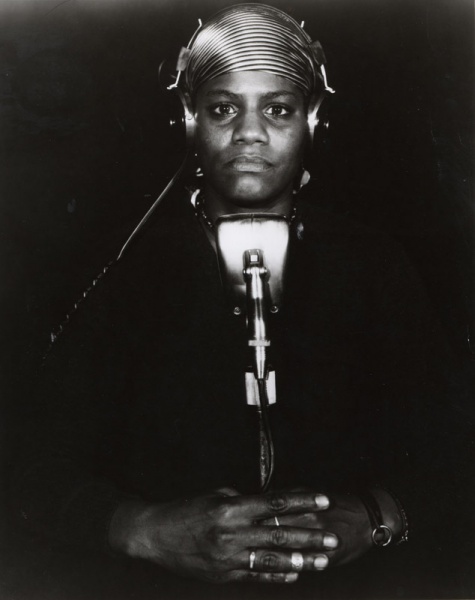 "Born in Flames [by Lizzie Borden] is already controversial as one of the least assimilatable films for male viewers (they hate it) due to its assumption of an all-woman nonracist universe." –B. Ruby Rich, Women's Independent Film Festival, Minneapolis, 1983
"Anyone outside its target demographic of Trotskyite black lesbian separatists should avoid [Born in Flames] at all costs." –Nathan Rabin, The Onion, 2002
Onstage at the Walker 25 years ago, critic and scholar B. Ruby Rich read her "Feminist Avant-Garde" manifesto from a handwritten text, including its righteous shout-out to radical filmmaker Lizzie Borden, who only months earlier had brought her then-girlfriend Honey, star of Borden's Born in Flames, to Rich's 35th birthday party on the hottest day of summer in New York City. Scorching times, these. Just the night before Rich's Walker symposium gig as part of the Women's Independent Film Festival, a screening of Susan Sontag's movie Unguided Tour had been shut down midway(!) by fest organizers at Iris Video in deference to what Rich, in her book Chick Flicks, calls a "feminist mob." Rich, cultural historian and coiner of the term "New Queer Cinema," cites this "abhorrent film exhibition behavior" as the "only case to my knowledge in which boredom achieved the status of censorable content." Woo-hoo! Let's hear it for the Minneapolitan mob feminism of 1983!
Now a quarter-century old, Born in Flames–screening Saturday night (7 p.m.) at the Walker's "Queer Takes" fest, and hailed by former Twin Cities programmer Jenni Olson as "one of the most dynamic feminist films ever made"–also begins by proudly celebrating an anniversary: that of New York's Social-Democratic War of Liberation, which 10 years earlier had brought equality to all, even Trotskyite black lesbians. Alas, Borden's movie is a work of futurist fiction, albeit rendered largely in documentary form. "It is time to consider the progress of the past," says an old white man in suit and tie, addressing the camera on a concrete square near Wall Street–evidence that the revolution has already passed, that only the counterrevolution will be televised. Or will it? Made guerrilla-style in 16mm for a mere $40,000, Borden's Godardian salvo has her militant Women's Army taking CBS video techs at gunpoint, forcing them to interrupt the U.S. president's would-be pacifying offer of "wages for housework" with a special news bulletin from the black radical feminist underground. Sorta like Bolex-toting Borden bumrushing the Reaganist multiplex culture of 9 to 5, no?
Borden (née Linda Elizabeth Borden), who turned the big five-O in February, will never get an Academy Award for lifetime achievement or anything else: Listen closely to the soundtrack of Born in Flames and you can imagine hearing her say, while deejay Honey gets her gun, No sellout, no sellout, no sellout. Akin to Sweet Sweetback's Baadasssss Song as a grainy, galvanizing fantasy of radical action against The Man, Flames is also extremely funny and enjoyably hyperbolic–the sort of movie that verily demands two or three exclamation points at the end of at least three (or four) aptly overblown sentences about it!!! The film's very stridency, as in vintage blaxploitation, is no small part of its appeal: The white male villains are never more hilarious than when their evil is offhandedly exaggerated, as when an FBI agent surveilling our heroines half-heartedly instructs a colleague, as if ordering pastrami, "Put some pressure on them at their jobs." At the other extreme, literally whistle-blowing distaff vigilante bike cops come peddling out of nowhere to halt a rape in progress, this before Borden's even more sharply insinuating montage of female hands equates cutting hair to rolling a rubber over an unseen dude's stiffy!!! (All in a day's work!!!)
Interviewed years ago in Women and Performance, Borden claimed that criticism of her movie stemmed not from race and class–or from gender either, one presumes–so much as from sexuality. "People are really upset that the women [characters in the film] are gay," Borden said. "They feel [the film] is separatist." Whatever the source of the film's continued provocation, it's no minor accomplishment for Borden to have made a film that almost two decades after its release strikes an A.V. Club critic as a "pretentious mishmash of amateurish acting, dialogue stolen from a freshman text on Marxist feminism, bizarre montage sequences set to bad new-wave music, and simplistic leftist propaganda." Whoa, man, your phobia is showing!!! With all due respect to The Onion, "Gay Pride Issue" included, I'd say Born in Flames is nothing less than a miracle–hilarious and exhilarating, at once angry and playful, a film for the ages. And with all due respect to "Queer Takes," I'll venture to guess that not one of its six new features will look in 25 years from now as young and hot as Born in Flames will when it's 50.