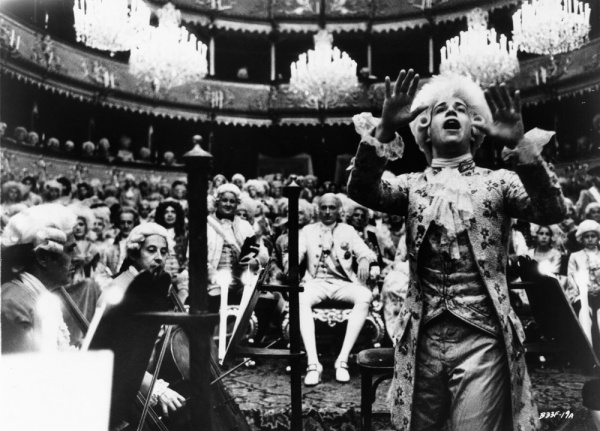 When Milo Forman arrives here on April 12 for his sold-out Regis Dialogue with L.A.-based critic Scott Foundas, the 75-year-old filmmaker deserves to be greeted like a rock star, his fans scrambling for autographs, shouting out requests (" Rock me, Amadeus!"), and perhaps even flicking their Bics until the Walker's fire alarm goes off.
I don't say this because Forman directed a valiantly recovering Courtney Love in 1996′s The People vs. Larry Flynt, or because R.E.M. helped inspire his Andy Kaufman biopic Man on the Moon a few years later, or because in the times-they-are-a-changin'-back days of '79 he let it all hang out with Hair, or because the Czechoslovakia-born filmmaker's well-named U.S. debut Taking Off (1970) sports enough pricey tuneage (by Woodstock vets The Incredible String Band and others) to have indefinitely forestalled a commercial video release anywhere in the world. I don't even say it because the apt title of the Walker's accompanying retro–" Cinema of Resistance"–all but begs us to defy the museum's easy listening vibe (" Freebird!"), like Forman's R.P. McMurphy righteously railing against Nurse Ratched's wretched Muzak in the Cuckoo's Nest.
Rather, I'm thinking of the classic Minneapolitan rock tale–lovingly told by Jim Walsh in the Pioneer Press and well worth repeating here or any other time–wherein the Revolution-era Prince sits alone at the back of the dearly beloved Southtown Theatre several nights in a row, swinging his high heels to the beat of Forman's funky Amadeus (screening in its director's cut edition this Friday, April 4, at the Walker).
That His Royal Badness would just a few months later join the director among 1985′s Oscar-winners (Prince's gold came for writing the Purple Rain soundtrack, of course) means our reclusive homeboy might already have serenaded Forman for his vision of a flamboyantly costumed control freak whose musical genius was without equal at the time. But I doubt it. So let us be sure to thank Milo Forman for rocking the Kid of Purple Rain–along with kids of all colors, really, to the extent that the " Resistance" leader has always been a youthquaking revolutionary.
" I remember seeing Amadeus as a kid and really liking it," says Foundas by phone from L.A. " Particularly for a period film, it has a very contemporary feel. So besides the fact that it's about young people, it's a movie that a kid could easily access."
For another budding critic, it was Hair that first flipped his wig, although, relatively speaking, I was still a pup when I saw Forman in the flesh at the Virgin Megastore, of all places, where he was pimping Larry Flynt in workprint form for the New York Film Festival press screening crowd. "I'm not interested in Hustler," Forman said of Flynt's rag, "but I am interested in the idea that someone could tell me not to buy it."
Foundas, who's excited to be encountering Forman (and Minneapolis) for the first time on April 12, says that as interviewer he hopes to explore, among other things, the relationship between the director's life and work.
" His early films," Foundas says of Black Peter (April 1), Loves of a Blonde (April 8), and The Firemen's Ball (April 16), all key works of the Czech New Wave, " clearly reflect the sensibility of someone who grew up under Communism and had an almost Dickensian childhood and adolescence. Given what his life was like, it's amazing that he became a filmmaker rather than a coalminer."
At the age of eight, Forman witnessed his mother being taken away from the family home by Nazis; both she and Forman's father, a teacher, perished in a concentration camp after having been marked for death by a former employee of theirs. Sudden shocks, some matter-of-factly presented, are understandably commonplace in Forman's work. " The Germans just cancelled culture," the director told Fresh Air's Terry Gross in 1994 by way of explaining that, among influences, his childhood itself factors far more significantly than his childhood experience of movies. Disguising his early social critiques under cover of comedy, Forman became an early master of the fine art of smuggling, although Firemen's Ball (1967) allegorized Communism clearly enough to inspire some 40,000 Czechoslovakian firemen to threaten picketing the film–which was summarily banned in his homeland. Ball was the first of Forman's works to screen at the New York Film Festival, which provided a ticket to the U.S. as well as a chance to begin making high-profile American movies–less dissimilar to the scrappy Czech ones than they might appear.
Foundas, who hailed Forman's Goya's Ghosts (April 2) as " irreverent" in LA Weekly, says that comic impiety, along with an outsider's point of view, can be traced across the entire oeuvre.
" Goya's isn't a portrait of the artist so much as the portrait of a society that's constantly reinventing itself as one regime opposes the previous one," the critic says. " So you have this absurd cycle of contradictions seen over the course of a lifetime–which is how the world must look to someone like Forman, who has experienced democracy, Nazism, and Communism. Even [Forman's] Czech films are made from an outsider's perspective, with nonconformist characters rebelling against parents or patriarchal figures. And the [American] biopics are unorthodox as well. Man on the Moon seems to channel the personality of its subject, being both entertaining and enigmatic. It's a movie about Andy Kaufman where you learn as little about Andy Kaufman as Andy Kaufman would probably want you to learn."
The Walker, as if to help preserve the mysteries of both Kaufman and Forman, isn't screening Man on the Moon. Children of the resistance would thus do well to download the bootleg.