The upcoming Free First Saturday, People Pictures, happening April 4th, takes inspiration from the exhibition Live Forever: Elizabeth Peyton. Find out more about the artist in this family-oriented edition of the 8-Ball interview.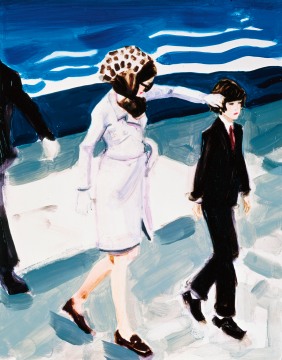 When did you realize you wanted to be an artist?
Very early – as long as I can remember.
How did you express creativity as a child?
I drew a lot and put a lot of pictures of people up on the wall.
How would you describe the art that you made as a child?
Pictures of faces.
How did your family or teachers influence your career as an artist, if at all?
They were very supportive – gave me lots of paper / drawing materials – very encouraging etc.
What kinds of music did your parents play around the house?
They played Billie Holiday, Frank Sinatra, old Swing. My older siblings were always playing the Beach Boys and the Beatles.
Did you know any working artists growing up who inspired you?
Not really, though my mother painted.
What artist turned your world upside-down as a teenager?
Warhol – I loved Warhol as a teenager.
What was your favorite book?
A photo book of Elton John and Undoubted Queen – about Queen Elizabeth II, a large photo book my grandmother had.
What was your first job?
I worked for my parents in their candle shop.
Did you have an imaginary friend and if so, what was he/she like?
I did. She was like a genie.
What did you collect as a child?
Pictures (photos) of people – ice skaters, tennis players, musicians.
Who was your favorite pop-star growing up?
David Cassidy, Shaun Cassidy, Elton John, David Bowie – in that order.
Is it quiet when you work? If not, what do you listen to / watch?
I listen to a lot of different kinds of music.
Whose portrait are you still waiting to paint?
Jay Z